What is the best windshield washer fluid? This is one question that often comes up when people discuss vehicle solvents. It is understandable, as everyone is always looking for the best products to fill their washer reservoirs. Now without proper knowledge, it is easy to get everything wrong. This is because washers come in various formulations designed to perform under different conditions.
Well, from today, you will no longer be in limbo. Below, we have broken down top-tier products for washing your windshield. The solutions are well-described and in their best-suited categories. 
Top Pick
Prestone All Season 3-in-1 Windshield Washer Fluid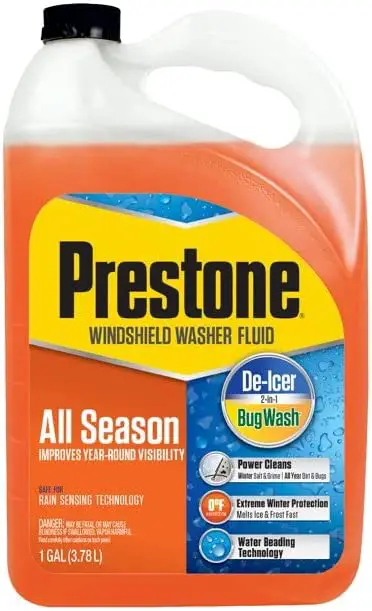 Prestone is a great company that has made considerable strides in manufacturing washer products. Therefore, it is no surprise that the editor's choice goes to a solution from them. In essence, we are talking about the Prestone All Season 3-in-1 Fluid.
As a driver, you know how much of a nuisance having bugs on your windshield can be. With the bug wash, the 3-in-1 solution can break down and eliminate bugs from your view. Moreover, the fluid is made with a water-repellent advanced beading technology. With this, it can effectively deal with glares and streaks on the windshield. 
Being an all-season product, the Prestone windshield washer can be used at any time of the year. This, of course, includes; winter as it is a de-icer, meaning it hastens the melting of ice. Moreover, it's also very gentle to your windshield wipers.
One drawback is that it is a bit more expensive than other products in the same line.
All things considered, there is no doubt using the solution will leave your windshield sparkling clean.
Pros
Bug Wash
Water Repellant
De-icer
Con
Price: $38.24 (Amazon Canada)
Runner Up
Rain X 2-in-1 All Season

Making it to our list as a runner-up is Rain X's 2-in-1 All Season washer fluid. The feature-packed solution is a powerful road grime and bug cleaner. The best part is that it does so without leaving any streaks. 
The pink liquid is a heavy hitter boasting an unmatched temperature range. With this, the solvent is capable of working in any season. That is not all; Rain X's windshield washer fluid offers an impeccable hydrophobic treatment. Its application stops salty winter spray on the road from sticking onto the windshield's surface.
To top it all off, the product is straightforward to use. All you have to do is fill it in your car, and you are good to go.
Pros
Bug clearer
Hydrophobic
All-season product
Con
Price: $12.30 (Amazon Global)
Bug Remover
Gunk M506 Concentrated Windshield Washer Solvent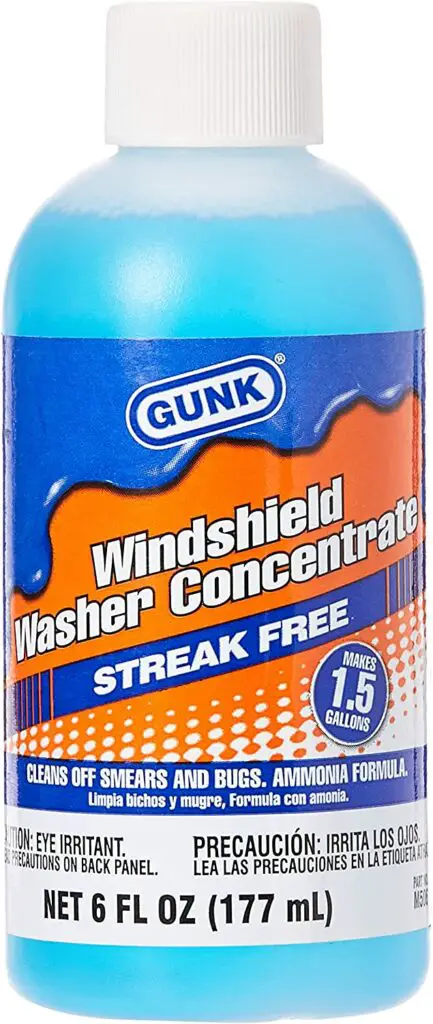 Many windshield wiper fluids claim to get rid of bugs. However, not all do. Even those that do barely get the job done. The same cannot be said about the GUNK M506 wiper fluid. The solvent is rich in cleaning chemicals, which helps dissolve and eliminate bugs. 
Bugs are not the only "victims" of the washer's potency. Gunk M506 also clears any grime and dirt that may be present on the shield. It does this without causing any car or windshield damage. 
The downside is that it does not contain anti-freeze capabilities. This, therefore, limits its use to specific seasons of the year.
That aside, the product is highly concentrated. As a result, the liquid offers a large amount of a washer once correctly mixed with water. Essentially, for a 177 ml bottle, the solvent produces up to 1.5 gallons of windshield fluid. 
Pros
Pocket-friendly
Potent Bug Remover
Car-friendly
Con
It does not have anti-freeze features
Price: $38.96 (Amazon Canada)
For Winter
Rain-X De-Icer Windshield Washer Fluid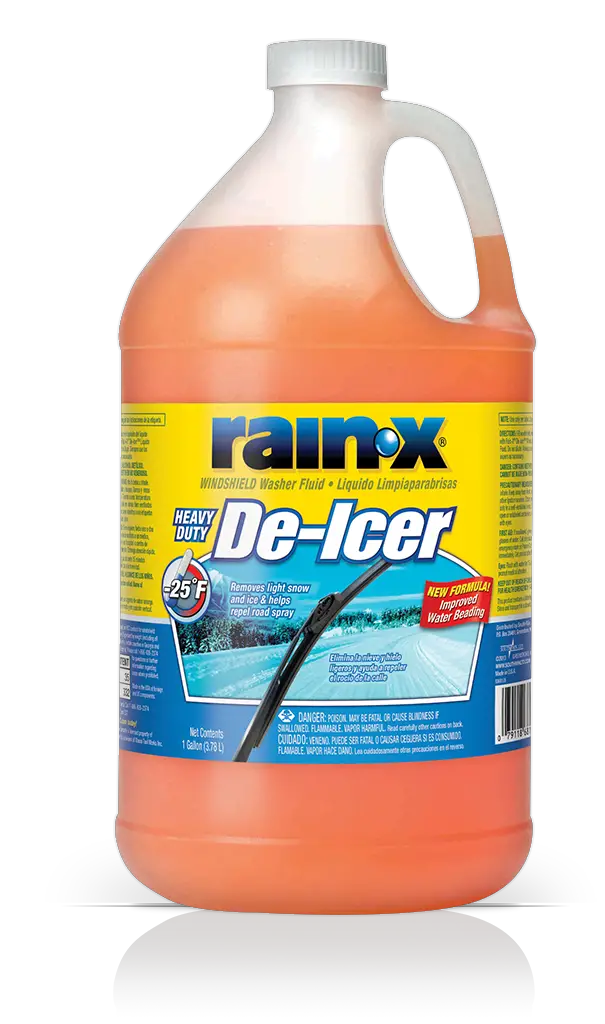 Cleaning a windshield is one thing. Cleaning it during winter is something on its own. In essence, the regular clearing of dirt and grime does not cut it during winter. Basically, on top of all of this, one also has to defog the windshield.
Completing all these tasks at once seems undoable. It isn't. With the Rain-X De-Icer, all your cleaning and defogging worries are sorted. This is because it can deal with both dirt and ice resting on your windshield. 
Of course, many would think you need to use it in large quantities for it to be effective. That is not the case. This is because the de-icer fluid is highly concentrated. For that reason, you only need a small amount for your cleaning tasks.
The solvent also has its downsides. One of the most notable ones being its low potency compared to other products.
Pros
Defogging capabilities
Water beading technology
Concentrated
Con
Price: $19.09 (eBay)
Affordable/Pocket-friendly
Aqua Charge Windshield Washer Ultra Concentrate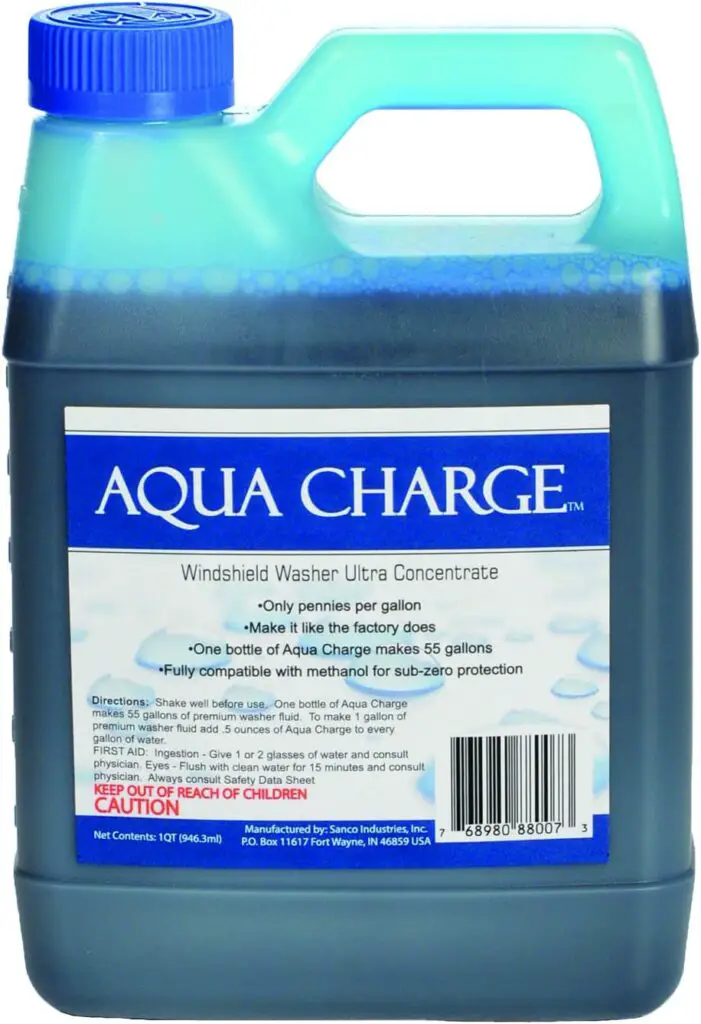 After thorough research, it is clear that this is the top choice in regard to affordability and efficacy. An Aqua Charge bottle can produce up to 55 gallons of a high-quality solution. Considering this "mixing ratio" and the solvent's price point, it is safe to say it is pocket-friendly.
Staying on the dilution topic, it is worth noting that some windshield washer fluid concentrates have a reputation for decreasing quality once mixed with water. Aqua Charge Ultra Concentrate does not fit into that category. Its quality stays the same throughout, enabling you to enjoy great results. 
However, it is not all merry when using this windshield washer. This is because the solvent freezes when exposed to low temperatures. Therefore, using it in areas with such conditions is quite challenging. 
Under optimum conditions, however, the results you will get after using it are remarkable. The product deals with bird droppings, bug residue, and any form of dirt with great ease.
Pros
Cheap (considering the quantity)
Concentrated
Potent
Streak-free cleaning
Con
Not suitable for use during low temperatures
Price: $58.32 (Amazon Canada)
Conclusion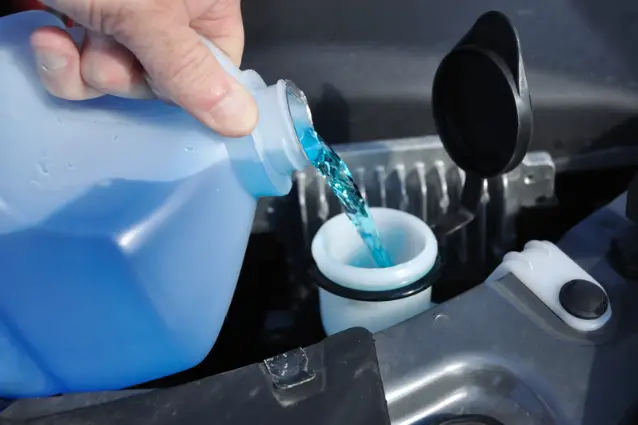 The article was designed to help you choose a suitable windshield washer fluid, depending on your situation. We believe it has done just that. Going through the piece will help you find a solution to your cleaning problems. Whether you want to clear a bug infestation, defog the windshield, or even wipe off grime, there is something for you.
Comment below which is your favourite or one that has worked for you!